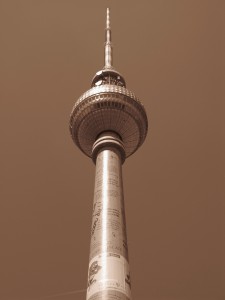 This is it. We Are Berlin. A subjective feedback from my life in the city. But not only. In here, you will find shootings and weekly agendas, places to go or to avoid, parties to show up and music to discover. A mix of fashion, lifestyle and feelings related to Berlin.
What is the purpose of it? Well, since one year in Berlin,  I do feel like a I am belonging to this town. And I love it. You need some time to get along with the recurrent loss in translation and the crazy weather. No, it is not such a cliché to talk about the winter. It is the reason of it all! Depression and moodiness are stuck into your bones for at least four months. And there is nothing you can do about it. We do all feel the same. It's like sucking up the deeper dark of your soul, and you have to cope with it. We are all craving for spring, and we know it will be worth it.
It's pretty hard to define precisely the modus operandi of this blog, and I don't really care. You are welcome to read it, but the purpose of it stays in a personal thinking. There is no fishing for celebrity nor becoming the new hype thing. Being in Berlin is not the easiest life ever, as some might think it is. You do need to turn down your expectations, you do not find the best jobs ever. It is all about cutting corners and be happy with the little things you have. That's find. But you need something to do that it is also totally you. I did not want to do it all alone. I am happy to collaborate with Megan Cullen and Marina Dellamore, that will be working on shootings, every week, and this is going to be great!