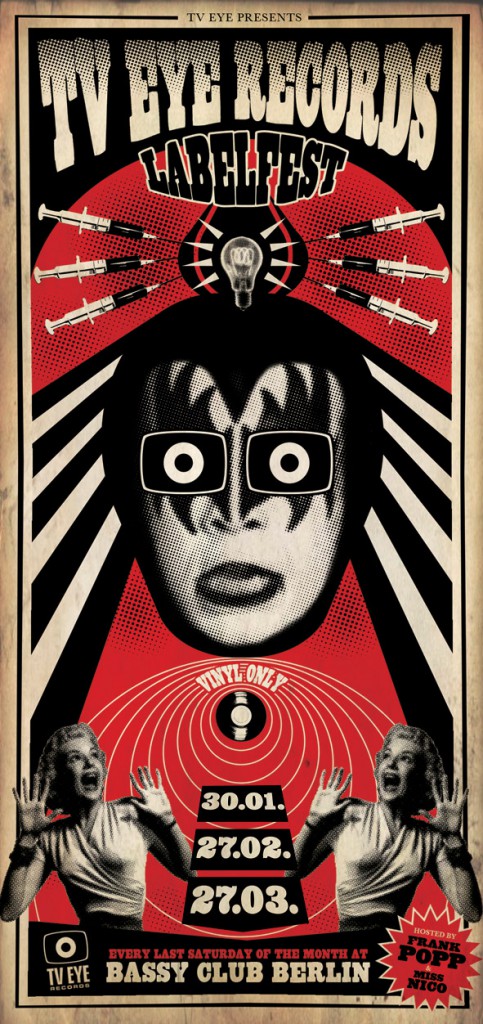 This week-end in Berlin, I'm going to celebrate the non-snowy streets. Yeah, welcome back heels, go away hunters boots. Finally! Oh my god, life is so exciting.
Saturday let's go to The Bassy Club to support the rock'n'roll business team, Frank Popp and Miss Nico. Those pals host great parties in town, booking some wicked bands and djing altogether. If you're into garage punk, raw sixties, psyche, freak beat and rhythm&blues don't think twice, put your leopard on and your go go shoes to look good on the dance-floor. Former residents in Düsseldorf, the duet moved to Berlin not long ago and are more than busy in da city since then. You'll find out very soon all the good stuffs to come, if your brain can still take it, or not. Who needs a brain? Dot.
Their UK special night tomorrow promises to be a wild one. The Bacchae will open the fest with some glam punk from Leeds, playing the last show of their German tour. And then ladies, suspense, the Horrors will follow on the turntables. Girl, behave they are british gentlemen (?). Since black is the new red (was it the other way round? I might have heard something 'bout khaki)(whatever I'm not a minger) don't forget eyeliner and glitters.
Plus, let's have some drinks at the  Acht Millimeter Bar before, meanwhile and after two doors below. Great booze, great staff, great DJ! (tourists are not invited) (oh gross. ok you can come, but only if you can behave like the regulars)(not).
THE HORRORS (DJ-Set)
Live: The Bacchae (Leeds)
plus Resident DJs Frank Popp & Miss Nico
27.02.10, Start 22h at Bassy Club Berlin
Schönhauser Allee 176A
—————————–
DJ Fredovitch
Schönhauser Allee 177